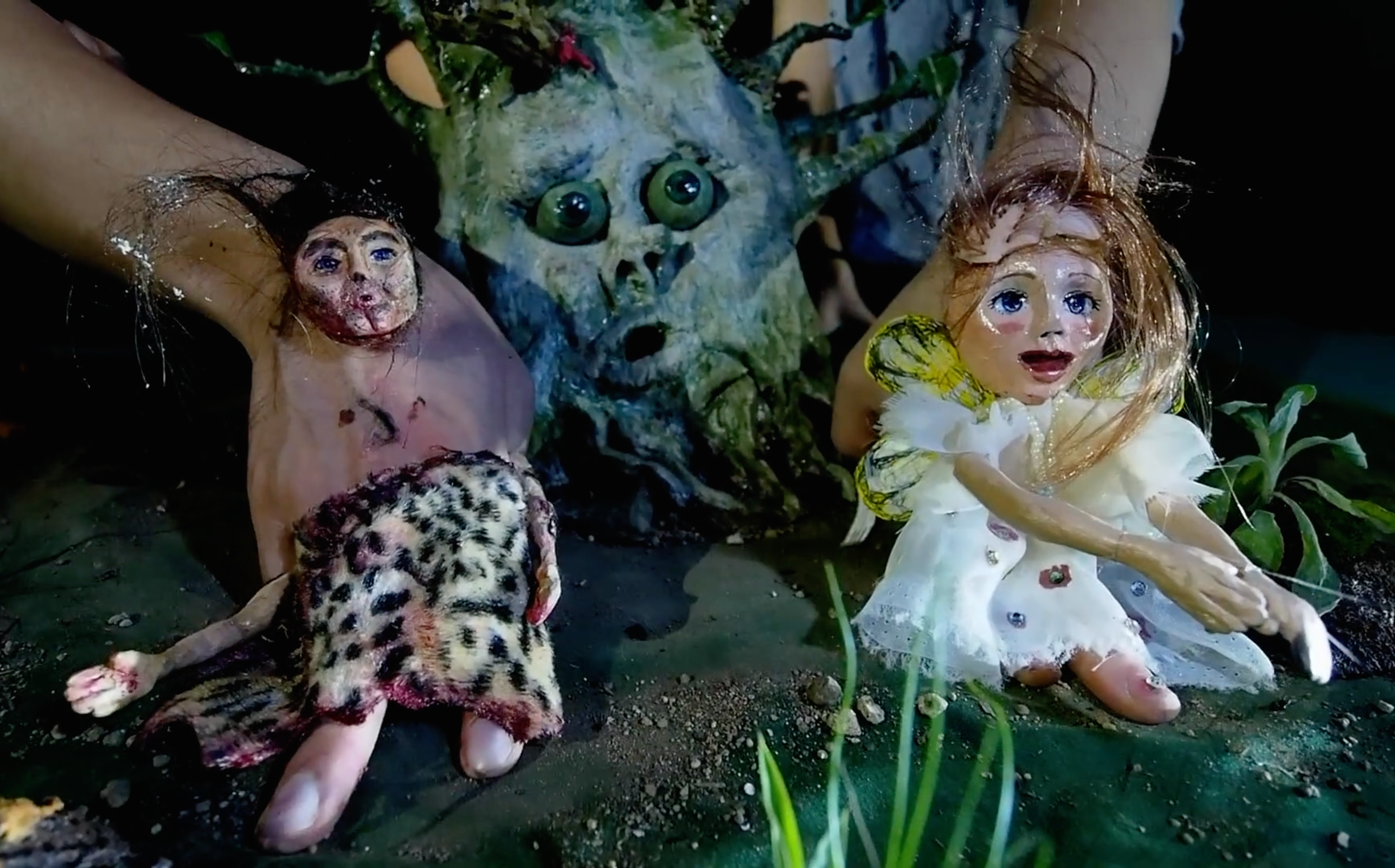 This work has been shown at "Nishiogi Film Festival 2016." Nishi-Ogikubo, the venue of this festival, is famous for a shopping street composed of individually owned small shops which are unique and with history.The shooting was performed at an old billiard shop on the street.
In this movie, the story unfolds on a billiard table of a small limited area and depicts occurrences among a middle-aged man, a fairy, and a big tree called Tivoli.The man living in a primitive way and worshipping Tivoli as a god finds the fairy and falls in love with her. He introduces Tivoli to her and she accidentally breaks a branch of it. He gets furious with his temper completely lost, pluck her wings and decapitate her. When he hangs out her head on Tivoli's branch as an offering, the fairy's head splits open, the pretty facial expression got changed into Joy, Anger, Grief, Pleasure, and the core of emotions emerges at the end.
The fairy injured Tivoli which the man cherishes through her carelessness, and it can be a representation of conflicts coming from differences in values in each individual. Tivoli looking on them and doing nothing seems like us giving a frosty look on slanders on Twitter. I believe we should not forget the possibility that everyone can not only an onlooker but also a victim and even a wrongdoer.
The plot of this story is based on memories, traumas, nightmares, and fantasy in my childhood, and modern viewpoints on social media currently I developed.I didn't appear in this movie exceptionally and worked on the scenario, direction, costumes, makeup, shooting, and voice acting. The way of building a world on a billiard table is similar to a sand play technique in psychological therapy. Creatures in the movie are attached to humans' body, manipulated by my orders, and the story progresses.