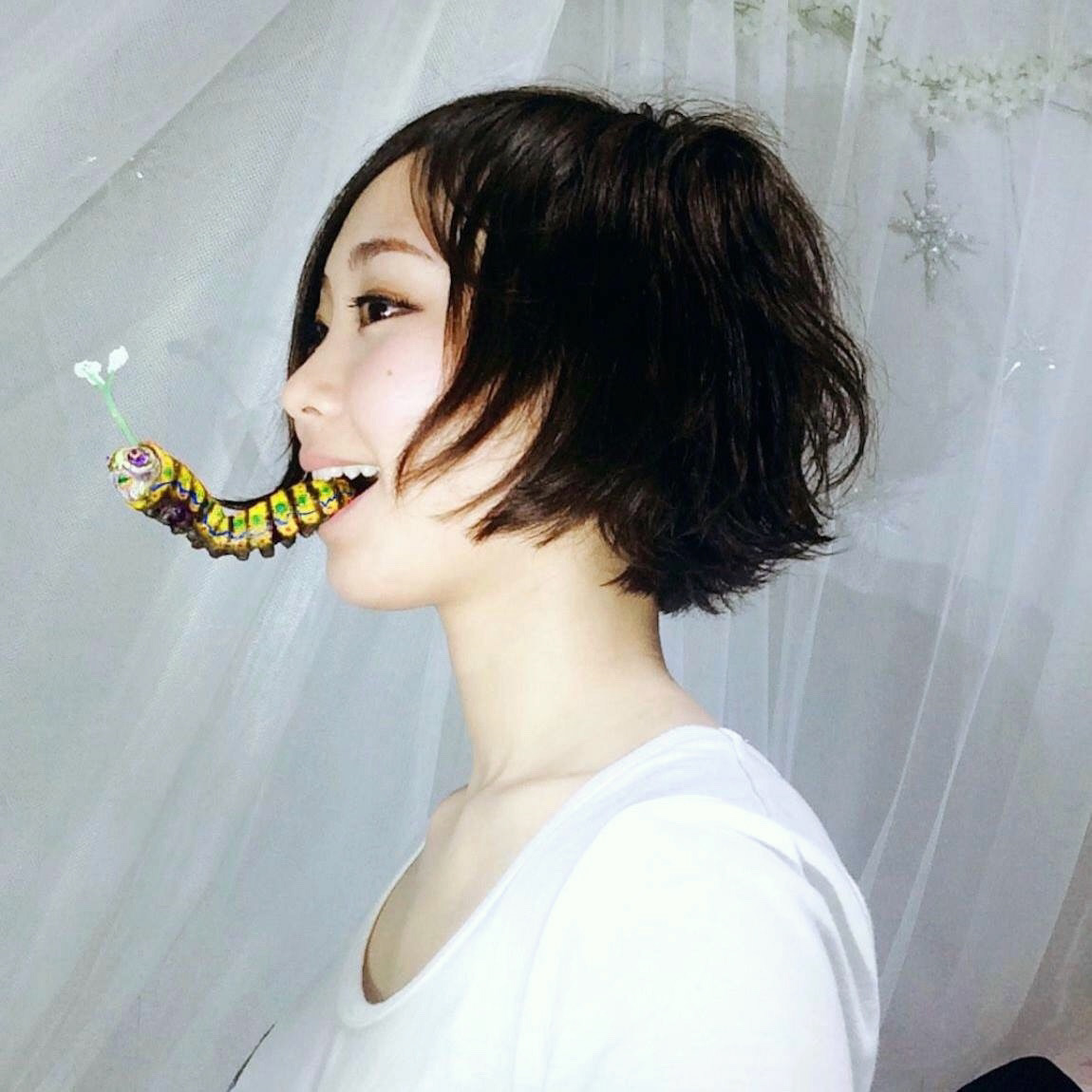 1988 Born in Aichi Prefecture, Japan
2011 Bachelor of Fine Arts, Tokyo University of the Arts 2013 Master of Fine Arts, Tokyo University of the Arts 2018 Doctor of Philosophy, Tokyo University of the Arts
Selected Solo Exhibitions
2012 You Are Beautiful, Art Center Ongoing, Tokyo
2013 island MEDIUM, 3331 Arts Chiyoda, Tokyo
2015 Dad, I'm sorry, Art center Ongoing, Tokyo
2017 Kako Hatsumi - Project MUSE, Art Center Ongoing, Tokyo
Selected Group Exhibitions

2011 Shodoshima AIR Art Project Story of the Island II, Shodoshima,
Kagawa [exh. cat.]
Whether it is art or not, Tokyo Wonder Site Hongo
2013 Hagiennale, Yanaka HASHIGO, Tokyo
Identity IX: Return to the Wild! Humans = Animals = Aliens?,
nca | nichido contemporary art, Tokyo
Setouchi Triennale 2013Tokyo University of the Arts Project:
Story of the Island, Shodoshima, Kagawa [exh. cat.] Shibukaru Festival, Shibuya PARCO, Tokyo
ART PROJECT OITA, Oita Prefectural Art Museum
2014 Island View, Tokyo Metropolitan Art Museum Ushimado Asia Triennale, Okayama
2016 17th Asian Art Biennale Bangladesh 2016, Dhaka, Bangladesh [exh. cat.] 2017 Special Project Commemorating the 130th Anniversary of Tokyo University
of the Arts, Research Project on Fine Arts and Education in Japan -
For the enhancement of the arts and cultural infrastructure "Every child is an artist. The problem is how to remain an artist once we grow up. - Pablo Picasso," The University Art Museum,
Tokyo University of the Arts
Tokyo University of the Arts Doctoral Program Final Exhibition, The University Art Museum, Tokyo University of the Arts
2018 Transnational (ad exhibition curated by Mori Art Museum), Asia Now, Paris 2019 Roppongi Crossing 2019: Connexions (Mori Art Museum 15th Anniversary
Exhibition), Mori Art Museum, Tokyo
By overlaying fictions onto news and other contemporary events, Hayashi Chiho makes pop-inflected, humorous artworks with something erotic about them. Most of her output consists of video works, where Hayashi herself makes an appearance as a wide variety of characters using makeup, from old women and old people to Buddha statues, pretty adolescent boys, the Vocaloid character Hatsune Miku, and even a pile of excrement.
In The Birthday of Dancing Buddha (2013), for instance, Hayashi plays an old person, a Buddha statue, and the Buddha's tightly curled knots of hair. Made in 2012, this work was based on news that the stomach and chest portion of a five- meter tall Buddha at the Wat Ban Dan Tai temple in northernThailand had peeled off, and that the head of another Buddha figure had appeared from within. Here, Hayashi depicts a scene of a Buddha being born, prompting us to consider the relationship between life and divinity.Tivoli on a Cliff (2016), a work based on a dream that Hayashi had as a child, is a somewhat bizarre video piece that begins with a live-action segment of people playing billiards, which then develops into an animation about a"sacred tree" and the human love-hate drama that unfolds around it. Both of these works have a seductive intensity that draws the viewer in through various features with a strong handmade character to them.
The work on display, Artificial Lover & True Love (2018), consists of a humorous mixed-media installation centered on a series of videos in which the"Android President" is a married AI robot who runs a ceramic workshop and falls in love with one of his human female students, alongside a space that is an apparent meticulous recreation of the president's office. Through this "Android President" AI robot equipped with a human disposition and emotions, this work prompts us to reconsider the definition of life and humanity—just as cutting-edge research on artificial intelligence and artificial life also does.

(Tsubaki Reiko, Roppongi Crossing 2019: Connexions, Mori Art Museum, P81)